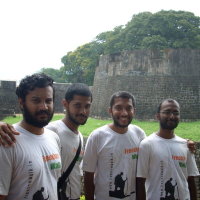 Today was a busy day of programmes. We had three programmes organised for us today.We were met at Hiran's home by Mr. Babu Antony and Mr. Shamsuddin (of KSEB Alathur division office).
The first programme was at the PMG higher secondary school. A reception at the computer training course by Mr Jeyaraj, (who is IT @ school, Palakkad - Master training co-ordinator), was the first event. We gave an overview of our objectives and ideas, and managed to network with the educated group. This was a good start to the day.
We then made our way to the Palakkad Public Library, where we met the Public Libraries Secretary for the district, and other public servants. We also met Smt. Parvati Varrier - former teacher and social activist. After our talk to the assembled individuals, we had a quick discussion about free software based library management software deployment in public libraries across the district- apparently, a topic to be brought up at their next committee meeting.
Next we moved on to Mercy College, where Hiran's mother, Smt. Rohini who teaches Malayalam had organised a meeting, along with the Computer Science Head of Department, Sr. Akhila. We took special care not to upset the presumably delicate feminine balance in this all girls college, by volunteering Anoop and Cherry to cover up their offending calves with "Mundu"s. Both had chosen to wear three quarters/shorts for the walk, which seemed to be acceptable for most of the Kerala public, so this was a novel first, but they obliged with good nature. Afterwards, having done with the event and walked a few hundred metres from outside the campus, they stripped off the mundus as a dedication to the famed "Aadu Thoma" from the popular Malayalam movie "Spadikam". The event itself was very formal, and began in English. Sooraj however took special care to speak Malayalam, and soon the formality disappeared. We hope we managed to inject a bit of the ideas we have been trying to get across here, and on the whole, people seemed to understand what was going on.
Without much delay, we then set off towards Alathur - a little way towards Thrissur, where we had been offered stay by KSEB. The route soon took us to the NH - 47, a leading arterial highway that links Kerala to the rest of India. It is absolutely treacherous to walk along the side of this highway for two reasons. The Pedestrian areas are not marked with yellow lines, for there is not much room left at the sides, as on other very well marked highways of North Kerala. It was raining really heavily. The traffic was extremely high, and driving, very aggressive. Many times, we thought we'd get hit from behind by overtaking traffic. This is a puzzling situation for such an important link highway, and perhaps needs to be brought to the attention of the public and remedied soon - we're certain it could save a few lives.
We reached Alathur safely, and Mr. Shamsudin hosted us here at the KSEB divisional office. The office is housed in a building that was once probably a very beautiful private home. We were treated extremely graciously here, and taken care of very well. We retired exhausted, for it had been a very long day.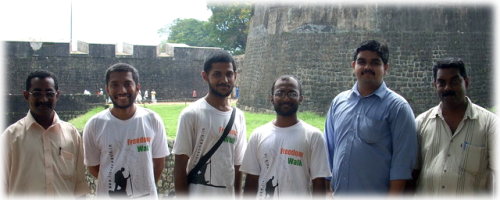 Freedom Walk Day 22 Photo Gallery
People who walked:
Anoop John
Prasad S. R.
Sooraj K.
Cherry G. Mathew
Babu Antony
Hiran V.
Shamsuddin