Today being Sunday, we decided to make as much towards Palakkad as possible. Early in the morning, we left for Thachambara, where stay had been arranged, again by Lohi saar. We would now be approaching Palakkad district, and made good progress in the morning. The sky was overcast and a slight drizzle kept the heat down, which added to our energy.
The roads in Palakkad district, seem to be much worse than the ones in Malappuram, with lots of pot-holes. Cherry got splashed on by a lorry. As we approached Kumaramputhur, we passed by a local college, MES Kalladi College, Mannarcaaud, and we were stopped by curious students. Apparently, many had seen the media reports of the previous day. After making a few contacts here, we pressed on, passing Kunthipuzha, but didn't stop to take a bath, despite many recommendations from locals, for it was getting towards evening. This part of Palakkad has a beauty of its own. For example, when one approaches Mannarcaud town, one can see the hills of the Western Ghats not too far off, clothed in beautiful wisps of cloud, with the sylvan slopes adding colour to the scene. It is breath taking, not to mention the laid back atmosphere of the town, and friendly locals. There seems to be some influence from across the border in Tamil Nadu - we saw a temple in the Tamil architectural style.
Soon we reached hairpin curves ("Churam") and used the shortcuts. Traffic had been stalled, as a lorry laden with timber had overturned, apparently a close call for Prasad, as he would have been uncomfortably close to the events.
We then made our way to the stay for the day, at Thachampara. After a weary 30km+ stroll, the welcome at Thachampara was not great. For a start, the KSEB employees at this office were lukewarm, perhaps a little tipsy, for there were a few beverage shops in the area. Several calls were made to the local supervisor, after which we were asked if we perhaps had explosives with us. Perhaps a reference to our un-trimmed beards ? If this is what we think it is, the Indian media has to hang its head in shame for its part in creating this kind of vicious stereotype.
We were offered space outside the office walls to sleep in, which we would have accepted, but for the circumstances. Things were settled soon, after a second call to the local head honcho, and we went to bed quite quickly, so as to get out of the place as early as possible.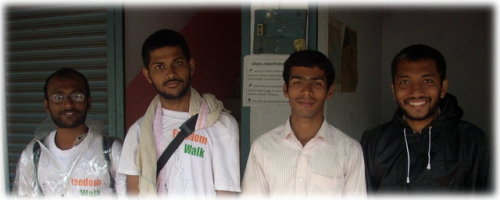 Freedom Walk Day 20 Photo Gallery
Places passed by:
- Karingalathaani
- Vattambalam
- Kumaramputhur
- Kunthipuzha
- Mannarcaudu
- Thachampara
Walkers:
Sooraj S.
Prasad S. R
Anoop John
Cherry G. Mathew