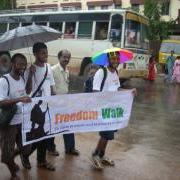 Today we set off from Malappuram town, early enough for Anoop to be interviewed by a news channel. The interview went quite smoothly, and we were to find that the publicity would be quite handy on our onward journey. The rest of the walk was rather event less, except for the beautiful sights and sounds of Malappuram district, our destination being Perunthalmanna. A program had been scheduled at MEA college of Engineering, in Perunthalmanna, and stay had been arranged at Thazhekodi, about 8km from Perunthalmanna.
Mr. Lohidas, supervisor for KSEB Malappuram took a lot of interest, and came up to Angadippuram, where he received us enthusiastically, and bought us lunch. He then proceeded to walk with us, to Perunthalmanna, where the town Councillor for Perunthalmanna received us cordially, along with students and staff from "Project House" and MEA college of Engineering. However, the weather had other plans, and rained out the grand plans that had been made for the reception. Despite this, the crew stood firm, and had alternative plans - an indoors programme had been arranged. Here, we had a good interaction with the students and faculty, and we hope that this will be a new beginning for the Malappuram GNU/Linux users' group.
We left Perunthalmanna after much greetings were exchanged, and Mr. Lohidas, affectionately called "Lohi Saar", arranged the rest of the stay for us at the KSEB office at Thazhekkode. The staff there were extremely welcoming, and even made us coffee! The weather however was wet - perhaps a blessing in disguise, given the dreadful heat that Palakkad is infamous for.....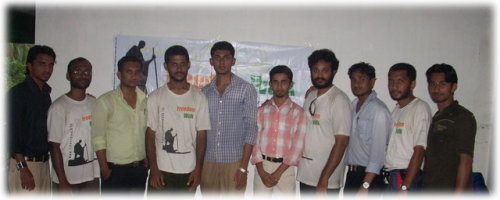 Freedom Walk Day 19 Photo Gallery
Places passed through:
- Kootilangadi
- Makkarapramba
- Ramapuram
- Panangangara
- Aripra
- Thiroorkadu
- Oradampaalam
- Angaadipuram
- Perunthalmanna
- Thazhekoddu
People who walked:
Mr. Lohidas
Sooraj S.
Anoop John
Cherry G. Mathew
Prasad S. R.