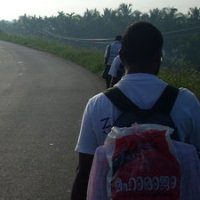 Today we decided to think big. The estimated distance of our walk would be about 50km. Setting off at a good pace from Thalappara, we headed off aiming to reach Perunthalmanna by midnight. Following the highway as far as Vengara turned out to be pleasant to the eyes, and obnoxious to the nose. Every bit of of the way sides of the highway had been littered with restaurant waste. Mostly chicken waste and other organic matter. The plastic or Jute sacks in which these had been collected had ruptured and we had to wrinkle our noses more than once at the stench of chicken innards and rotting flesh.
This, in between dodging oncoming traffic, for these highways are not designed to accommodate pedestrians, at many points, especially bends, where pedestrians are most vulnerable, the yellow lines are either invisible, or completely at the edge of the road. There are no sign boards warning of the risk to pedestrians, neither any other foolhardy people on foot - perhaps an indication there.
At Vengara, we turned off the National Highway 17, at a traffic signpost that read rather ironically: "God's own Country - GOOD CLEAN FUN". Turning onto the feeder road towards Malappuram, however turned out to be less stressful, and people were really curious, stopping and asking us questions on the way. Our enthusiasm and pace flagged by the time we reached Oorakam Panchayathu. However, we met quite by chance a few members of the ilug-tvm, who were on their way back to Thiruvanthapuram from Wayanad - most are friends of Prasad.
Meanwhile, our slower pace had brought with it the added benefit of appreciating the landscape which was quite hilly, and had scenic views to a river across which hung steel suspension bridges at more than one point. The weather turned wet towards evening, as well, with Monsoon thundershowers (Thulavarsham) threatening to hold us up - a threat we refused to succumb to!
Soon as we neared Malappuram, we got word that Jason had arranged an interview with a popular local cable TV channel. We were also to meet Mr. K Sabarish, the IT@school trainer for Malapuram district. We met him in town, and had a chat over tea. Soon the TV crew had caught up, and we managed to put on a good performance, although the audience would be a better judge of that. More importantly, we hope that the message of the freedom walk, is being reached by many people, all over Kerala through this medium. Tomorrow morning, we've been scheduled for a breakfast talk show on the same channel. Fingers crossed...... Good work Jason!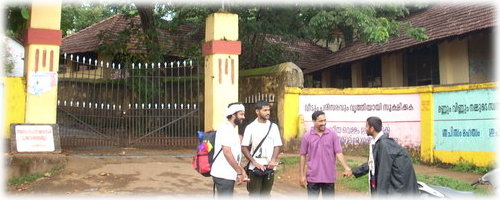 Freedom Walk Day 18 Photo Gallery
Places passed by:
- Vengara
- Oorakam
- Panakkadu
- Pattarkadavu
- Malapuram