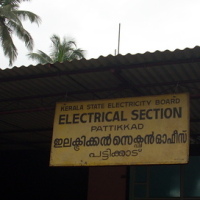 We set off a bit earlier, for we had arranged to meet with the Thrissur users' group, a very important group, given the amount of technical expertise and experience this group commands. We hurried through about 14km, and made it to the venue, fashionably late, once again. The issue of reaching destinations on time is becoming increasingly common, and really needs to have some effort put into it.
Inside Thrissur town, we came across the novel sight of mobile chai shops. Vendors would have a tea dispenser from which a cup would cost a nominal amount more than from a shop. Certainly not a problem for the compulsive tea drinker after many miles of marching down the National Highway!
We passed by impressive buildings from the Colonial era, as well as the most famous Vadakunathan Kshethram (temple) where the world famous "Thrissur Pooram" takes place annually. We also passed by the former Shakthanthampuran palace - now an archeological museum. We were stopped and queried by the a local city police patrol jeep - we've noticed that the police are inquisitive, yet polite ( within cultural constraints ). Finally, the PG centre was reached by dissecting our way through torrents of rain.
We had a good discussion with what could be described as most of the core of the Thrissur FSUG. Although small in numbers, the people who showed up were veterans, and we immediately switched to discussion mode, trying to come up with ideas to connect with other groups and reach out to the local community with FOSS alternatives. Also interestingly, we had Mr. Sunil Kumar K. K from CENSE Thrissur, a public charitable trust. This was really encouraging, as we were looking forward to meeting with people of this genre. We look forward to meeting and networking with more people like Mr. Kumar from similar organisations, as we go forward.
After the meet, we headed straight towards Ernakulam. Once again, the KSEB came to the rescue for accommodation. We've decided to take the weekend at a slow pace, since Monday is a holiday, and we hope to reach Ernakulam on a working day ( Tuesday ) in order to be able to interact with the most number of people.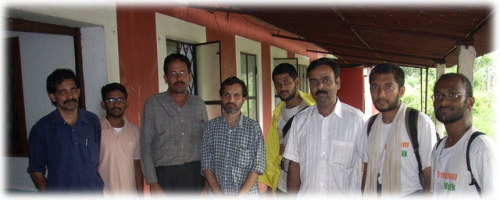 Freedom Walk Day 24 Photo Gallery