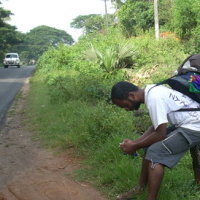 We left Alathur early, for we had a long way today, we were thinking of attempting to reach Thrissur at one go today. The estimated distance was about 48km, about 16km more than the best we had done to date. However, Prasad was not feeling very well at the beginning, and we couldn't make up our minds about what to do until well towards breakfast. At this point, at a lovely little local "Kaapi kada" ( Cafe ), Prasad was considering going on by bus towards Thrissur and having a rest at Sooraj's Parents' place.
But kudos, he decided to rough it out on foot! We still had to navigate the hostile National Highway 47. Once again, it is worth mentioning that this really busy road has absolutely no provision for pedestrians, except for a few km. around the Pattikaad forest area, and little patches from there towards Thrissivaperoor.
Towards noon, it began raining, and things got a good bit more wet. We had lunch at a restaurant at "Mary Giri"
The area around Kuthiranmala is really very pretty, the road winds down a slope, titillating our memories of Wayanad. Sooraj decided he was upto doing the entire trip to his parents' and sped up. He did a total of 48km! Our journey was much shorter though, and we settled for staying at the KSEB office at Pattikaadu, where the staff were, again, extremely hospitable.

Freedom Walk Day 23 Photo Gallery
Places passed through:
- Anchumoorthimangalam
- Vadakkancheri
- Kuthiranmala
- Pattikkadu
Walkers:
Anoop John
Cherry G Mathew
Sooraj K
Prasad S R