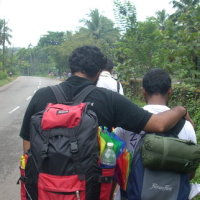 We set off from Thachambara as early as possible, given the atmosphere at our stopover. The walk was quite scenic, with the classic Palakkad scenery of whisps of cloud hugging the silhouettes of the fringes of the Ghats, providing a mesmerizing backdrop.
The walk itself was mostly uneventful. We passed by a bus waiting shed with a painting of Mahatma Gandhi and an inspiring quote from one of his many witty sayings. Anoop met with the President of the "Parent Teacher Association" of a local school, and had a long conversation. We were promised an audience with the local school, but after waiting more then twenty minutes for the promised phone call, we decided to carry on. We also heard a snide remark from a local, who seemed to imply that we were probably unemployed rich-kids, out to have a fun time - a classic example of the prejudiced, non-factual arrogance that has sadly permeated our society.
Presently, we were thirsty, and we stopped by one of the thatched shops ("Mada kada") that vend lime soda. This one was a bit bigger, and we were accomodated by the Proprietor, who let us sit for a bit and compile our daily reports on the little laptop we carry.
After lunch, we witnessed a cute scene. A stray monkey had befriended a local, and they were having a good time with each other. We took pictures, rested for a bit, and carried on. On the way, we saw beneficiaries of the National Rural Employment Guarantee Programme cleaning up the outcropping at the sides of the highway. We had seen this before at Wayanad, and thought it worth mentioning.
After a bit more effort, we reached Olavakode, near Palakkad, where Mr. Babu Antony of Palakkad KSEB received us and walked with us up to Hiran's place. On the way, we stopped for a quick sample of the famed Palakkad Idly, and also stopped by at his home, where we were treated to green tea and cake.
The sights and sounds of Palakkad are very interesting to the budding anthropologist. We saw a sign to the Jain Temple and community, passed by "Moothan Thara", the settlement of "Moothanmar", apparently early migrants from Sri Lanka. We also caught a glimpse of the entrance to a "Agrahaaram", the temple/living complex of the "Pattar" community - yet another migrant community. Apparently, non-members of their community are not allowed into the compound, and members are required to go through a set of rituals before they are allowed to step in. The whole atmosphere of Palakkad was one of co-existing migrant communities, sparsely mingled perhaps, maintaining distinct identities, contributing unique architecture, and yet thriving in a uniquely Kerala context. The Tamil influence from across the state border was however perceptible both in accents and architecture.
Soon we were at Hiran's home, and were warmly welcomed by his family. We were treated to the outstanding hospitality of Palakkad's own free software family!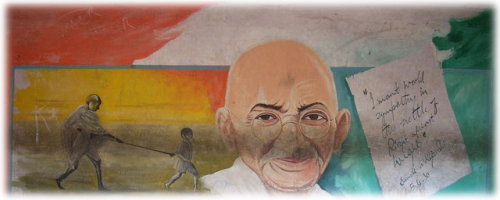 Freedom Walk Day 21 Photo Gallery
Places passed through:
- Kallikkode
- Karimba
- Kanjikkulam
- Velikkadu
- Mailampalli
- Mundoor
- Panniyanpadam
- Muttilangara
- Puthuppariyaram
- Olavakkode
- Palakkad
Walkers:
- Anoop John
- Prasad S.R
- Cherry G. Mathew
- Sooraj K
- Babu Antony