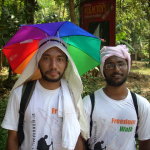 The day began late. The night before had been long and boisterous. At half past eleven, we were still at Beypore, struggling to get out of the area. Finally, we bid goodbye to the FSUG-Calicut team, who had so graciously hosted us and hand-held the trip all the way upto here. Final greetings were exchanged, and we bid adieu to Unais, Jemshid, Junais, Jason, Sanjeev and Manoj. Special thanks to the team, who arranged a fantastic stay at Beypore Thampi resorts - a resort still under development, apparently.
Starting out in the general direction of Feroke, we held a good pace despite the sapping heat. The road from Beypore to Feroke found us friendly locals, who, mistaking us for tourists, directed us to the places not to miss in Beypore. Turning on to the road towards the Calicut University campus, we held our pace, hoping to reach there before the end of the day. Our contact there, a Professor Ramesh - head of the Computer Science Department, a lab technician Mr. Munawar K, and another lecturer, a Mr. Siju, met us and had tea with us.
Our efforts to reach the MCA/Academic and undoubtedly technical crowd at Calicut university through these individuals, however, seems to have met some inexplicable inertia here. Either, we had been ineffective in establishing our credibility, or these contacts do not fully appreciate the mission of the freedom walk, or they genuinely think that the Calicut University Free Software community doesn't need the rest of Kerala's Free Software enthusiasts.
In any case, we didn't waste too much time, and headed for our hastily decided roost for the night - the KSEB (again!) office in Thalappara, for which we are much obliged to Mr. Unais, henceforth fondly referred to as "Unais Ikka".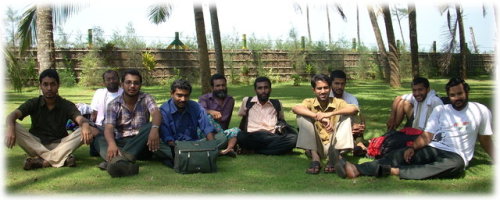 Freedom Walk Day 17 Photo Gallery
People who walked today:
Sooraj S
Anoop John
Prasad SR
Cherry G. Mathew