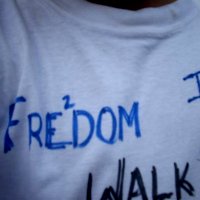 We woke up excited. This would be the last day of our 44 day walk! We thanked the KSEB staff for their hospitality, and set off towards the Kerala University Campus. On the way, we passed by a remarkable board that read: "Kerala Highway Research Institute". We certainly know where to give feedback about our ordeal on the roads now!
Walking into the Bio-informatics research center at the Kerala University Karyavattom Campus was delightful. A lovely stroll through lush botanical gardens and other mysterious congregations of all sorts of botany, finds one at the entrance to a very modern looking building that houses the Centre for BioInformatics. Dr. Achuthsankar S. Nair, its director, is a pleasant man who appears to be fighting middle age rather successfully. Tall and lanky, and dressed in semi formals, this easily approachable academic is certainly no pedantic hermit. Rallying together colleagues from his research lab, we spent a very civil twenty minutes, talking about our cause and debating its finer points. It was all very professional and curteous - yet highly intelligent. After tea was served, and we acquainted ourselves with everyone around (curiously, the women kept to themselves ), a special function was organised. The youngest academic in our gathering, Dr. Nair's charming young son, brought a little cage, from which he proceeded to produce a dove. The bird was released together then, by all of us, in symbolic gesture of support for our cause - freedom. Certainly some thought had been spent organising this academic event - something we appreciated and enjoyed thoroughly. The crowd dispersed, and we retired to Dr. Nair's office for a quick parley.
Leaving behind this beautiful campus, we next walked on to the College of Engineering at Trivandrum, Anoop's Alma Mater. On our way to the campus, we saw the interesting sight of a snake falling off a passing bus and slithering off the road to a bus shelter - throwing the people waiting there into panic. We carried on towards the campus via a shortcut, pointed to us by a local. Having reached the campus, we were to be recieved by College Union representatives, and we were made very comfortable. After a little while of Sooraj taking curious photographs of rolls of chart paper and other miscellany, we moved to the seminar hall, where a rather sizable gathering of students awaited us. We did the usual routine again, gently massaging the egoes of the best of Kerala's Engineering talent to get their attention, and gently nudging them towards the possibilities in Free Software. Even these mighty brainies however seemed to have noticed that the global financial slowdown had affected their employability after college. The talk was done as usual - Anoop handled the ideology and the broader perspectives of Gandhian principles ("Be the change you wish to see in the world" ... etc. ), Sooraj introduced the user possibilities of Free Software, and Cherry spoke about the learning opportunities of perusing Free Software Code.
After tarrying a little longer, we made off towards Sreekaryam, where a quick meeting at Loyola School had been organised. With us were Jemshid from Ascent Engineers and Naveen, a student at CBI. The meeting at Loyola was perfunctory. The vice principal, Fr. Edasseril received us, vetted us, and sent us to the "Audio visual lab", where we were given the opportunity to address the senior students. Fr. Tom was very co-operative, and the students were bubbling with energy - these students would represent future leaders of our state, and perhaps country, for loyola has produced many stellar performers in all fields. We got some intelligent questions, and after the session, we were briefly entertained back in the Vice principal's office, where we spent a little time, before setting off for our final destination.
The television cameras caught up with us a little after the gang from Zyxware did. The walk had now expanded to a little over 10 people, and a jolly group of freedom walkers marched towards the finish line. Interviews were given on the go, and photo shoots were done. We moved on at a steady pace towards Vellayambalam and Christ Nagar School, where a contingent of activists had gathered. The WWF sponsored a sapling to be planted in the school premises, which was duly planted by the trio, and we moved on towards the hall, awaiting the arrival of dignitaries invited for the function. Ajay Kumar, IAS, as well as Mr. Joseph (IT Adviser to the Chief minister) were among the guests, as was Mr. Sasikumar, Kerala's very own venerable hacker (complete with long hair, and beard).
After 44 long days, we had finally reached the state capital. Crossing 14 districts and about 1200km on foot, this pilgrimage of epic proportionals would stay with us personally for a long time. But more importantly, this would perhaps be humble beginnings for a movement, that would spring up in Kerala - a state which has been the source of many movements - a movement that would inspire us to be the change we wish to see in the world......

Freedom Walk Day 44 Photo Gallery
People who walked today:
- The trio
- Jemshid
- Naveen
- A third anonymous Linux enthusiast brandishing a camera.
- The Zyxware gang - Joju, Manuel, Joe, Santhosh, Naveen PL, Sindhu, Krishna, Unni, Rajesh.
Places walked through:
- Kazhakkuttam
- Karyavattom
- Sreekaryam
- Ulloor
- Kesavadasapuram
- Pattom
- PMG
- LMS
- Museum
- Vellayambalam
- Christ Nagar School. ( End of Journey!!! ).