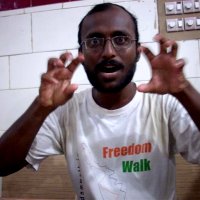 We left at leisure today, despite Adarsh's please to clear out before it was time for him to leave for work. Clearly, we had put on a measure of self importance that ranked higher than the schedules of hard working people. Finally, we managed to overcome our inertia and after Adarsh got back home from work specifically to evict us (in good humour, of course!), we promised to keep in touch and moved on along the National Highway towards Attingal.
The day was warm, as it usually is along these parts, and walking next to the paved road didn't help things much. However, we were by now used to this, and ignored the distractions, focusing on planning for ahead for after the freedom walk instead. Among the things that did get our attention, were a Tailoring school and matchbox factories. The wood cuttings that would eventually make the boxes were stacked in a curious formation to form 4foot high 'rings', and of diameter about 6 - 8 ft. This was a mechanism to save space and dry the wood before further processing.
Today was also a day when we got a fair amount of press coverage via our meeting with the press reporter yesterday. A lot of people would nod in our direction in recognition.
A sad view along the side of the National Highway, was the rusting
skeletons of discarded PWD road paving equipment - road rollers and massive granite mixers lay in sorry overgrown areas along the side of the road, many of them decorated with posters of various sorts. The absolute waste of iron, which could have been recycled, apart from the thought that these machines could perhaps been repaired, or at least removed, was disturbing. However, in contrast, a heartening sight along this same road was a little Medium/Small scale industry of building/assembling mixers (granite).
Lunch was at a sweet restaurant called "Karthoos", at Karamcode. If at first it looked like a tourist/motorist trap, it turned out to be a really reasonably priced family restaurant, with pretty good food. After lunch we headed on and reached Paripally in a few hours. There was a surprise meeting at Paripalli KSEB section office, where we walked into the middle of a staff meeting. The officer here was an acquaintance of Anoop's father. He greeted us and gave Anoop a quick chance to introduce the freedom walk to the employees of this office. This was done rather quickly, and we moved further along.
After a mostly uneventful day, we reached Kallambalam, where we stayed at the KSEB section office. As usual, the hospitality was mind blowing, and we managed to befriend a few employees.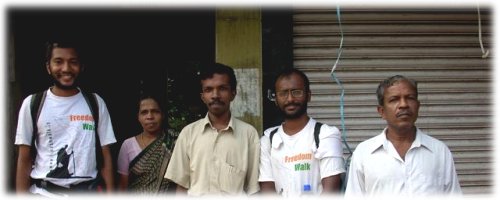 Freedom Walk Day 42 Photo Gallery
People who walked:
The trio
Places walked by:
- Umayanalloor
- Parakkulam
- Kottiyam
- Maylakkadu
- Ithikkara
- Standard Mukku
- Thirumukku, Chathannoor
- Karamcode
- Kulavathukkal
- Paripally
- Navayikulam
- Kallambalam