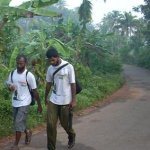 We set off early in the morning from Puthoor, for we would have a few events planned out at Kollam today. Walking through the countryside was refreshing, and we imagined this would be the last time we'd be able to do this on the trip, for we were to get on the National Highway 47 (NH47) once we got to Kollam, and then it'd be the usual routine of dodging traffic and roadkill.
Here however, was quiet and beautiful. The village atmosphere accentuated the lazy slothfulness in green settings that Kerala is infamous for among Malayalees themselves. We passed by views of smoldering brick kilns and tall tapioca plants, with fewer rice fields in sight. We had breakfast from a tea shack. We noticed that the local culture in conversation here is to be a little snappy. It was hard to get the attention of waiters, and when we did, our orders would go verbally unacknowledged - the only way to know they had heard would be when the food arrived at your table. This was true from the little tea shack here in the vicinity of Kundara, to the busy restaurants of Kollam town.
We reached a bigger road leading towards Kundara. The road had been closed to construct a railway over-bridge. Interestingly, two wheeler riders had found a little path through the barriers and had started a route of their own. This turned what was presumably meant to be a footpath, into a war zone with two way two wheeler traffic jostling for way with pedestrians. When we reached Kundara, we had a peek around the abandoned Kundara railway station - expected to be opened "soon". The old meter gauge track built during the British Raj, is being widened to the broad gague that is standard for the rest of the Indian Railways.
Adarsh V. K. is of wiry build, and dressed formally in a long sleeved shirt, trousers and immaculately polished shoes; this, despite the oppressive weather. His wit and energy well conceal the well read scholar who is concealed under this youthful demeanor. He is a vocal Free Software user and an ardent proponent of Swathanthra Malayalam Computing. He set a vigorous pace that Cherry found hard to keep up with, for his feet were hurting. After a couple of hours of Adarsh leading the group at a furious pace, we reached Thangal Kunju Musaliar College of Engineering (locally known as "TKM"). Cherry got a quick refill of water at the water cooler, as the students led Anoop to the Principal's office, in a building reminiscent of Arabian decor. Anoop returned disappointed and a little miffed. The Principal had just turned down an opportunity to address students, citing our dress code as reason. This seemed a little bureaucratic and old school, given it is the year AD2008. In fact, what would have happened if Gandhiji himself had turned up, we wondered? Would the principal have dismissed him as an out place 'half naked fakir'? A little disappointed for the students who had missed an opportunity, we moved on. Adarsh however, was livid with rage, for his Alma Mater had disappointed, and embarrassed him. We moved on to the office of a local Newspaper, where we recounted our story so far. It would apparently be on print in the local press tomorrow.
We next made our way to the Khadi board. Here, we were accorded a warm welcome, and spoke with the staff there, about issues with the use of Free Software and so on. Anoop spent a little while trying to debug a specific issue, but left it at that. We now moved on to meet an appointment with the Kollam Superintendent of Police. Little were we to know that this wait would stretch out to two and a half hours. We however had a chance to chat with a few of the policemen who frequented the building, and even had a really interesting conversation to a new recruit to the officer's ranks. This man was quite the antithesis of the stereotypical nasty cop, who swears like a sailor and doesn't hesitate to get violent - an image, which this gentleman was quite acutely aware of, and told us, was a thing of the past, for he understood the colonial context in which that role had been developed. Then, unlike now, the 'Sarkar' (government) was that of colonial Britain, and the police, its willing minions in suppressing the people. Today, he explained, this role has no place in society, as colonialism is a thing of the past, and the role of the police has moved to being one of helping people out. Quite an eye opener there - such a gentleman in the Police force!
The wait for the SP turned out to be fruitless, however, and we made our way to Adarsh's home in XXX, where we would spend the night. Adarsh took us to his favourite local joint, where we had dinner. On the way, we spotted what would probably be the world's smallest shop, a bicycle repair shop of approximate dimensions 1.5ft by 4ft. The proprietor willingly posed for a photograph for us. Reaching Adarsh's home was a great relief, and we settled for the night in his humble abode, much appreciating the kind hospitality shown to us in the midst of constraint. Adarsh truly showed us the very Indian ethos of "adidhi, devo bhavaha" - "My Guest is my God". We gratefully retired for the night.

Freedom Walk Day 41 Photo Gallery
People who walked:
The trio
Adarsh V. K.
Places covered:
- Maranadu
- Aarumurikkada
- Kundara
- Kollam