The caretaker at St. Ignatious Orthodox church was surprised, even a little intimidated. We quickly reassured him that we meant no harm, and promised to leave as soon as it was daybreak. It was hardly 4.30 in the morning when he happened upon us. At half past six, we were on our feet, ready to move on to Adoor. We hadn't used the bathroom or brushed our teeth or taken a shower as most civilized people would do at some point of the day, but no matter, if we reached Adoor, we'd be able to freshen up and get on with the programmes organized there. So off we went, and a fast pace. By the time we had breakfast, a little before Anandapally, we received a phone call from Unnikrishnan of Zyxware Technologies, that he would be walking with us today. We synchronized things with him, and finally met up.
It was a reunion of sorts for the folks from Zyxware Technologies. Cherry and Anoop had been out of office for a month and a half, and meeting Unni turned out to be exciting. They shared stories from either side, and Unni joined the walk, his tall strides easily making up for what the rest of us had picked up in stamina.
In among the farmland, smokestacks appeared on occasion emitting thick smoke with a special name in Malayalam - "Kattapoka" (Brick smoke). It didn't take too much cunning to figure out that we weren't too far from brick country, where brick kilns dot the countryside - surprising, because this dying industry is competing with modern counterparts in the industry - cement bricks, hollow bricks etc. As we neared Adoor, we made contact with Mr James from the College of Engineering at Adoor. He is a family friend of the Johns, and would play host this morning. We invaded his home pretty soon, before it was time for him to leave for work, and proceeded to freshen up and dig into the delicious breakfast that he had organised for us. A few of Anoop's father's ex-colleagues showed up, having heard from Mr. James about the walk. Mr. James himself is an acquaintance and ex-colleague of Anoop's father, Mr. P. T. Yohannan.
Soon a host of young people trooped into Mr. James's home, and escorted us towards town. They introduced themselves as being from a training institute, "Saamkhya", run by Mr. Adarsh Gopi. Soon we were marching the last couple of kilometres towards Adoor, specifically the College of Applied Sciences. Things had been arranged beforehand here, and the staff showed us to the Principal's office. We exchanged greetings, and were led to a seminar hall, where students had assembled. We did the usual routine, with Unni taking photographs, for a change. We were delighted to answer questions from inquisitive students in the audience, our expectations were exceeded. After lunch, we moved on to the College of Engineering at Adoor campus, Cherry's alma mater. Mr James had already arranged to speak with the principal, and Cherry had spoken with Ms. Manju S. Nair, the HOD of computer science. This made things very easy, and we walked in to meet the principal Mr. Jyothi John who said hello, and gave us permission to address the students. The session was the first one given at a college of engineering. After the session, we hung about a little bit more with Mr. James, and also at the Cafeteria, where Anoop worked a bit on writing out digital pictures onto a DVD to send to Thiruvanthapuram with Unni.
Soon we were on our way to the next destination, trying to reach an intermediate location to Kollam. The people from "Saamkhya" had taken leave by now, as they had exams and other important commitments coming up. We thanked them for their support and moved on. As we neared Kadambanad, we got hit by sniper photography. Two teenage boys were snapping us on their camera phone. Since it was getting to be time for a "feet break", we made said hello to them, and had a chat. They had seen us on TV and were curious about us. We took pictures with them and moved on. Another quick break at Kadambanad. As night fell, we were still a way off from Kollam. Soon, one of the guys from "Saamkha", Sreenath, remarked that his home was on the way, and we made towards there, wondering what the plan for the night would be, for the nearest KSEB section office seemed to be beyond reach. We bypassed Bharanikkavu to head straight towards this home. At here, we discussed various options, and finally, we reached the conclusion that the best place to stay would be at Anoop's relatives' home at Puthoor. So we headed off, with Sreenath and his friend showing the way for a little while. We bid goodbye to these really friendly and helpfull guys, and headed off at top speed to Puthoor. As we neared Puthoor, tired as we were, the heavens opened up in a torrent that turned the road into a river. The sparse traffic on this road turned to almost a halt. Anoop pulled on his raincoat, but the rest of us decided it was futile anyway, and focussed on keeping our baggage dry using our umbrellas. Another concern was the real risk of stepping into open drains - potentially deadly. Soon we reached the home we were to stay in tonight, and it seemed to our tired minds that the rain gave up almost immediately!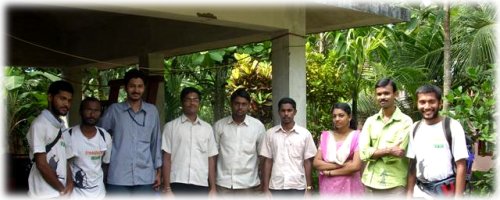 Freedom Walk Day 40 Image Gallery
People who walked:
- Unnikrishnan
- The freedom walk trio
Places walked through:
- Kaipattoor
- Adoor
- Kadambanad
- Puthoor
Distance walked: ~32