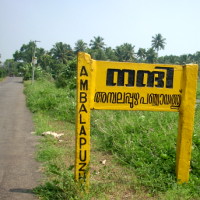 "Omana Ammachy" spared no affection, and made us breakfast, despite strong protest from Anoop the previous night. We had delicious breakfast, and lazed about in comparative luxury, with Cherry keying in the reports which were lagging. Since we began late in the day, the sun was out in full force by the time we said our goodbyes, and Anoop bid special goodbye to Omana Ammachy, it was almost like leaving family behind.
Soon we were headed out on the Ambalapuzha-Pathanamthitta state highway - 12, aiming to reach Eraviperoor, where Cherry's parents' home is. As we headed into the heart of the Kuttanad "theera pradesham" (literally, "coastal area"), we noticed that the area was teeming with agricultural activity. People on bicycles, farm equipment moving about, fresh produce being hawked on the streets - indications of a vibrant local economy. Soon we were walking through typical Keraleeya rustic splendour - wide rice fields on either side, with the odd temple and "kalithattu" where locals sought abode from the blazing sun. We'd also passed by the Kunchan Nambiar smarakom, a museum dedicated to one of Kerala's true cultural critics, satirists and great poets. This seemed to be the heartland at its best.
As we reached Karumadi, we noticed a sign board of the Tourist department that read "Karumadikuttan -> 0.5km". We were too intrigued to pass this, so we visited the little shrine to the Buddha, the deity carved in blackened granite was missing an arm. Here lay clues to the forgotten history of Buddhism in Kerala. The local Hindu temple would arrange for the little stone lamp in front of the shrine to be lit every evening. Touching benevolence from the victor, perhaps - its significance of course, long lost in the mists of time.
As we moved on towards our destination, the countryside would provide us with lovely views and bring us in contact with friendly locals. When we neared Thakazhi, it was late noon, and the few restaurants (locally referred to as "hotels") were out. As we asked around a smallish junction, we were directed to a home where food would be prepared on prior order. The lady there was very hospitable, and offered to accommodate us for lunch despite it being late noon, although we hadn't placed a prior order!
Soon the little paddy fields and streams expanded into Kuttanad in its full splendour, with raised irrigation canals and large expanses of uninterrupted farmland. The paddy fields were being bailed out of water at this time of the year, for the next planting of rice. Kuttanad is below sea level, and the irrigation channels have to be raised in order for the run off to flow out to sea. Thus the bewildering sight of a motorized canoe making its way above line of sight from the road. Also the curious method of draining the fields by pumping water out to storm drains at a higher level. Heavy duty electric water pumps hummed and clunked away, as we stared for a bit and made our way on. Penned into 2ft by 2ft nets by the side of the road were choice poultry for the day - guinea fowl, duck and chicken - which would very likely end up in tasty curry pots by dinner time.
Soon we neared Edathua, a little town at the edge of Kuttanad. Here we met "Tintu's Dad", curtesy Sooraj, who introduced us and spent a little time for tea. The cafe was impressive with its modern decor and atmosphere. We didn't tarry for long, for dusk was fast approaching, and our target for the day becoming less within reach. And then we were stopped yet again by a couple of kids on a bike, having seen us in the news reports from the previous day.
As we moved along, we left Kuttanad behind, heading back to the midlands as our route criss-crossed the Kerala map in our attempt to visit all District headquarters. Thiruvalla would be the next town along this route. In the twilight, our resident Entomologist and his vacuous assistant (no names!) began to click pictures of spider colonies on electric lines along the roadside. Quick phone calls to local experts confirmed that spider colonies are only observed in the real world in South America, and speculation soon arose, of a possible ecological find of significance. Perhaps these octapods had made it across the infinite oceans via maritime trade ? Perhaps they had evolved separately in similar habitat? Perhaps these were hitherto undiscovered species?! As the excitement grew, fatigue crept back in with a vengeance, and the Animal planet reality show ended, to the relief of some. Presently we were at Chakulathu kavu, and we determined that dinner would be a wise plan given that Kuttanadu had afforded us restaurants few and far between. The dinner was mundane - another permutation of Porotta and Dosa and assorted vegetarian curry options. A few curious locals stopped us, as we left the area, possibly vigilantes from the popular temple nearby, as in Vazhoor. Fortunately, these were friendly locals, and although it was too late to appreciate the benefits of free software to a free society, this part of the country was progressive enough for us to shake hands and leave things at that. We neared Kavumbhagam.
With 2km to go for Thiruvalla and rainclouds threatening to unleash their fury with a drizzle here and warning rumble of thunder there, we re-considered our destination. It was already past nine o' clock at night, and the six kilometres to Eraviperoor looked like a distant dream. Cherry called a family friend in Thiruvalla, and in about an hour, three tired travellers found abode in the home of Mr. Dasan Philip, of Thiruvalla.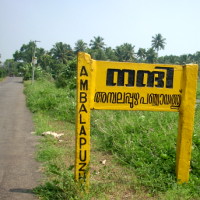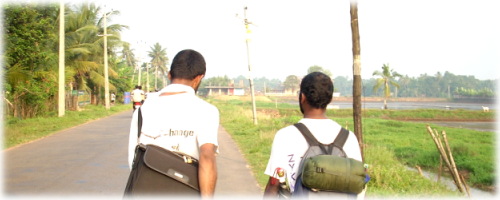 Freedom Walk Day 38 Image Gallery
Walkers of the day:
Anoop John
Cherry G Mathew
Sooraj