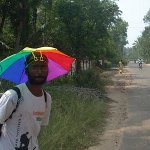 We started from Thaneermukkam bund KSEB office early, as we usually do from offices, for we needed to clear out before the day staff showed up. Walking down towards Allappuzha, the coastal feel was immediately obvious. The roads were narrow and twisty, with sandy pavements and small holdings - typical in Coastal Kerala. The feel was very similar to that of Marad, Bekkal and other coastal areas we had been to. There were also a lot of beautiful temples in the area, which were made in Kerala style. The accent had also distinctly evolved towards melody as we approached the Alappuzha area.
Muhamma seemed to be a rather lengthy subdivision of Alappuzha district, with a few schools and other institutions dotting the road we were on. We stopped once at a bus waiting shed for a rest and to update the blog, and presently, curious people, mostly kids, were popping in to say hello. Apparently, the news item in the local daily (Malayala Manorama) had had some reach.
Towards lunch, we first came across the water problem that this area is notorious for. Well water is salinated, and a lot of water borne diseases lurk in the shadows. Visitors need to be extremely careful with any contact with water, especially food and drink. We walked into a local restaurant in a little town in Muhamma. They were almost out of lunch, but offered to cater to us. Anoop noticed the general problem with flies and cleanliness in the area. He declined to have lunch, choosing to have fruit from elsewhere.
Walking along further, into the day, we were now on the main highway (NH-47). The road sides were dotted once again, with little cottage and other small scale industries centered around coir products. The first place we had a good look at someone at work, making twine out of rope. It mostly consisted of a spinning gadget, and a very skilled operator, who would feed tufts of processed coir fibre, it looked as if the twine were magically forming by popping out of a pile of coir. The lady making the twine told us that this would then be further used to make bigger rope. Soon we left her, and moved further along, and took another break later, when we struck up a conversation with locals. Just before we were about to leave, Shanthulal, one of the guys around, offered to show us the "thadukku" machine he operates for a living. The fascinating machine, made entirely out of wood and iron and operated by hand showed how the industry has stayed dormant for so long. For some reason, the benefits of further mechanization are not clear to them. We had a minor debate about this, but ran out of time to bring across the finer points. After some more friendly banter, we discovered that the industry was on strike, apparently, production had stopped until the unions could work out a deal for a pay hike. We thanked Shanthulal for his graciousness - he had taken effort to demonstrate how the mat making machine worked despite the strike - and we moved on.
Soon a common friend of Anoop's and Cherry's, Abraham George showed up. He would be walking a little of the way through Alapuzha and up to Ambalapuzha. The trio caught up on old times and sharing experiences from the walk. He brought some useful trinkets, such as reflective straps used by cyclists, which we wore on our arms while walking in the night. An interesting sight that we began to notice in these areas, were the rusted skeletons of old PWD machines lying by the side of the road. Its a shame that the metal is not being recycled.
Soon we were at "Omana ammachy"s home in Ambalapuzha, and retired very quickly, for we had walked a reasonably long distance.

Freedom Walk Day 37 Photo Gallery
Walkers:
The trio
Places passed through:
- Thanneermukkam
- Muttathiparambu Kavala
- Puthenangady
- Nethaji
- Roaddu mukku
- Komalapuram
- South Arad
- Kai Choondi
- Aravukaadu
- Valanja vazhi
- Ambalapuzha