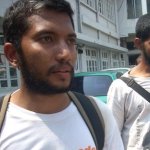 Today was a busy day at Kottayam. We would spend most of today in town at various commitments. Powered by an excellent breakfast and lots of support from "Manoj Achachen" and his family, we made towards MD seminary Higher Secondary School. We were joined on the way by Jin, a lucky camper at BCM college. Apparently he is among 18 other male students at this otherwise all womens' college, which should certainly be an interesting academic experience, if nothing else.
The event at MDS HSS was pretty ceremonial, with all the 10th and 12th standard students being seated in the main hall. The dais was arranged, and the school principal provided a standard introduction. Anoop gave an inspiring talk, to a very responsive audience. Every question was met with enthusiastic responses, and every compliment met with applause. Since it was a big audience, there were limitations to the type of content we could deliver, and we focused on the social aspect of our trip.
Soon we were on our way to Baselios college. Here, our talk was fitted into another program. It was a similar interaction, en-masse to a really mixed crowd, so once again, we focused on our social change agenda. The audience were a bit more muted, as the context of the freedom walk had perhaps not been understood in full detail, but we were able to make key contacts here, who would come in handy for further interaction, later on.
Meanwhile, Jin had been with us all the time, helping out with the details of our logistics and acting as a liaison for the Kottayam FLOSS community. We had lunch together, and then headed towards the BCM college, where he had made the necessary arrangements, immediately obvious at the college gate, where a banner welcomed the freedom walk team. We met with Ms Teena Jose of the English department and Ms. Jasmine Mathew of the social work department. Soon we headed to the college auditorium, where a rather well prepared meeting had been organized - there was a OHP presentation with pictures taken from the freedom walk web site, and a full blown formal function, complete with the National anthem. Once again, the crowd was big, and our interaction was not as informal as a classroom interaction could be. However, we immensely enjoyed the interest of a an auditorium full of young women, who we encouraged to rally troops to increase the feminine presence in the free software landscape. More importantly, we were able to reach out and meet people who would potentially be out there tomorrow, working on important social projects ( for example, the college is currently working on a project related to child sexual abuse ). We were able to suggest IT related tools, in order to improve the efficiency of otherwise mundane data gathering aspects of this kind of work.
Soon we left BCM, and it was time to say goodbye to Jin. We him for his hospitality and enthusiasm and were on our way to "Manoj Achachen"'s home. Since Anoop was still struggling with his feet, he went on straight ahead to the route towards Allapuzha Thanneermukkam bund, while Cherry and Sooraj waited at home to finish the blog writeup. We caught up with each other a few kilometers before the bund area, since it was dark by then. However the walk up to that point was getting lovelier, as we left the midlands and approached the coast ( "theeradesham" ), past the famous Kumarakom tourist area and in general, the Vembanad lake area. It was no holiday, however, and our limping party reached the Thanneermukkam bund KSEB office where we were once again scheduled to stay at close to midnight. The night staff here were extremely friendly, and were ready to share floor/desk space with us without any reluctance.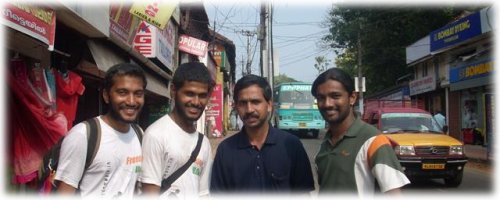 Freedom Walk Day 36 Photo Gallery
Walkers:
The trio.
Places passed by:
- Kottayam
- Illakkal
- Kudavachoor
- Kumarakom
...
- Thanneermukkam bund
Distance walked: ~31km