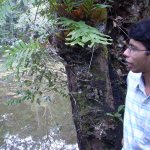 This day is dedicated to two fever ridden members of the gang pushing themselves to the limits. Hats off to Sooraj and Anoop John. They inspired the rest of the Freedom Walkers and the general public with their sustained efforts.
We spent yesterday night at Manuel's home . The stay was pleasant. Manuel's Dad is a doctor, which was a Godsend for us since Suraj and Anoop were in the grips of fever. He gave them antibiotics to pump the fever out and made them take enough rest. Prasad, Manuel and Jiyo decided to take a break while the rest of the bunch (Anoop John, Suraj, Cherry and Ashik) continued.
The walk was grueling - not because of the climate, or because of the terrain , but because Anoop John and Suraj were too weak. But they carried on, taking frequent breaks on the way. The people, once again were friendly and curious. Most of them mistook us for tourists while the children assumed that we were photographers and insisted on getting their photos taken.
The road was scenic. We had to go via roads that gave us a view of coffee plantations. A lot of them had trees growing in between the coffee plants, giving us a forest-y feeling. If we were not seeing coffee plantations , then we were looking at paddy and 'Kamuku' plantations. We also noticed that most homes along the way had a small garden in the courtyard and had no boundary walls.
The roads were nice and well maintained. The government's health department seems to be working hard in these places, with warning signs for common ailments posted all over. These were accompanied by measures to prevent the onset of these diseases - all in short simple sentences that anyone with basic reading skills can grasp.
Manuel and gang came by in the evening , before we reached Kalpatta , and took our luggage back to the day's destination. This was also a great help for Anoop and Suraj and both of them started walking faster. We plodded on through the day and the night fell when we reached Kalpatta. We had to walk for five more kilometers to reach our stay - Prasad had reminded us about the food and rest awaiting us and the hunger drove us on.
Manuel had arranged stay at his Mom's uncle's place. This place must have been the best so far - an old home , renovated and very well maintained. It looked beautiful and words will do no justice to the beauty. Coffee plants all around and a view of the western ghats :)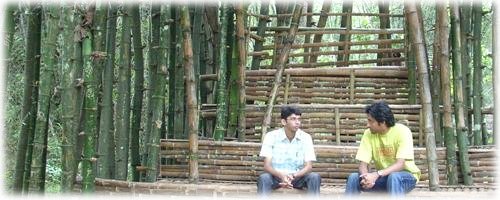 Freedom Walk Day 12 Photo Gallery
We missed a meeting at W.M.O College of Arts and Sciences since we couldn't reach the place before the closing time. But we still called the day a success because we stayed on schedule, and reached Kalpatta.