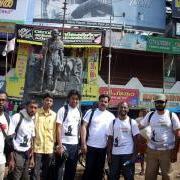 Today saw two more members joining the group. Ashik arrived with supplies from Trivandrum and joined us at Hotel Bismillah at Mananthavaadi. Jiyo arrived from his home at Kannur. After we had breakfast , we met Suraj and Arun ( Social activist ) .Arun took a photo of us standing before the Gandhi statue in Mananthavadi, so he can get Mathrubhumi's local edition to report our progress. Azeez and Arun saw us off and we set off towards Pachilakkaadu , about four km from Panamaram.
The time was 10:30 and we set off, complete with thoppikkuda aka thalathoppi. Jiyo and Ashik got themselves two bucket hats while the rest proceeded. Since we had no sessions along the way (today being Sunday) we took our own time. The walk itself was pretty uneventful, except for people occasionally stopping us and inquiring about the walk.
The curiosity, primarily , must have been due to our attire. Jiyo was the only one who had dressed in any sane fashion. Prasad was wearing a dirty khakhi pants and the freedom walk tee, while Manu opted for a no nonsense tracksuit-shoe-tee approach. Suraj was also dressed similarly. Ashik was wearing a bright red emblazoned GPLV3 shirt and a white three fourth. Anoop and Cherry opted for shorts and Freedom walk tees. Cherry had a clothes-hanger hanging from his bag with his shorts and tee drying on it. We must have looked pretty strange , especially because of the thoppikkuda.
Children, quiet a few of them tried their english skills with us – it was the usual "Whats your name " routine. We all replied cheerfully in pure 'Thirontharam' slang :D. Most were camera shy and dint give us much opportunity to get their cheery faces.
We all took our own sweet time and so the group was split. Ashik and Manuel brought up the rear with Jiyo, Cherry/Anoop/Suraj taking the lead between them and Prasad alternating his position between us.
We didn't have any difficulty on the way. None at all. Once we refilled our water bottle from a home along the way. After a particularly demanding uphill climb , we walked straight into a home and asked for some 'Kanji vellam' (Italian Soup Water). The man of the house gave us two bunches of bananas (must have been from his own back yard) and lot of kanji vellam to drink. He didn't ask any questions. He came out, saw a bunch of tired and hungry people and immediately did what he could to quench our thirst and kill our hunger. We've noticed that people here are of a particularly good nature. They don't assume that we are doing something evil or for money . They listen to us patiently and ask intelligent questions. Ashik tore his chappals on the way , so he got a new one from a shop at Panamaram. Now the funny thing was the kid there, who couldn't believe that we were walking all the way from Kasargod. He repeated the question "ngalu Kasargodunnu nadanna ?" quiet a few times. He represents the people's general reaction when we tell them that this trip began at Kasargodu . Apart from that initial surprise, they were all ears and encouragement on the way.
The end of the day saw us at Manuel's home at 'Pachilakkaadu' four km from Panamaram. We all have taken baths and cleaned ourselves, Manuel's dad has looked at Suraj and Anoop's health . Suraj and Manuel are resting and right now , the rest of us are sitting around having a nice chat with Manuel's dad .
We are tired, two of us are down with fever but we all are eagerly looking forward to getting to Kalpatta tomorrow and attending the planned session there.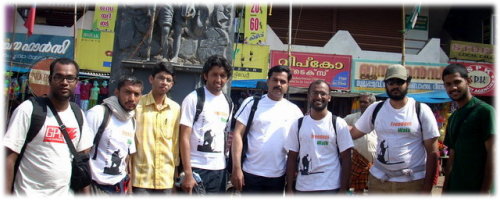 Freedom Walk Day 11 Photo Gallery