The caretaker at the Govt. Tourist Bungalow in Korome seems to think of it as her very own palace. After much cajoling and whining, she manages to evict us at about 10am. The bill/reciept we get is a little dodgy. The rent we paid is split between "rent" and "food", with "additional" scrawled illegibly somewhere in between. Definitely worth reporting to the management.
Sooraj is a bit groggy today, and by the end of breakfast, we decide that he see a doctor at Mananthavady. The plan is that we meet up later when we reach there after a day's trek.
Walking in Wayanad is much easier than down in the lowlands. The weather is much cooler except in the sun. Abdul Azeez joins us from Makiyad. He's dressed for an interview - full sleeved shirt, trousers, formal shoes, quite a contrast from the rest of the group in tattered smelly T-shirts and washing hanging down dirty back-packs.
The trek is through scenic rustic settings. To the right lies a majestic view of velvet green clad hill ranges footed by paddy fields. Presently we reach a fork in the road. "Two roads diverged in a wood and I -- I took the one less travelled by, and that has made all the difference", Robert Frost.
The route along Theta mala ( Tata hill ) is scenic. Beautiful minars match the picturesque backdrop of tea gardens and paddy fields. There's a gentle breeze which eases the harshness of the sun. The weather is rather cool under the shade.
As usual a lot of people are very interested and we stop a few times to explain our mission.
When we finally reach Manthavady, we're close to exhausted. The last bit is uphill, and we end up at the pazhassi garden - the final resting place of Pazhassi Raja, also known as the Lion of Kerala. The views from this garden museum are very nice, although mobile phone towers mar a lot of the landscape.
The reception at Manthavady is organised at the Pazhassi library, with a projector and a machine with fedora core 9 installed on it, by a local linux user. The meeting is really inspiring, as there are a quite a few users here and an already vibrant linux community. We promise to get everyone connected to the fsug-calicut group. Arun, who has organised this meeting arranges for us to stay at the government "Inspection Bungalow", and we're comfortably housed here for the night. It is clean and well maintained, and on the whole we have an absolutely great time here in Manthavady. The user group here seems to be very promising.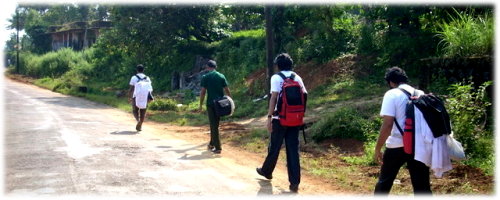 Freedom Walk Day 10 Photo Gallery