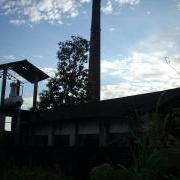 Cherry's hattie ( kuda thala ... err... thala kuda ) seems to be attracting a lot of curiosity. He seems to be getting a lot of greetings in the local version of English. Prasad seems to not resent his loss of novelty status, and now wears his 2 billion Ruppee duplicate Rayban shades with nonchalance. The rest seems to have done wonders to his energy levels. He's leading the group now. Very different from the laggard of the previous day. Three hours into the fiercely hot day, and he seems to have overshot turn-offs twice.
Local people seem to be curious, and a lot of grass-roots involvement is kicking in. The group learns about the Kovuppuram Jamaat Palli and the Annapoorneshwari temple. The local claim is that these two religious establishments have learned to live in love and harmony - perhaps a reflection of tolerance of the people of the area. The claims even border on the topic of syncretism, but a mere conversation in passing is insufficient to verify the facts. One can only presume that the message of Freedom has been sown here before, and the conversation is broad enough, once again, to exchange contact information, and even the internet address of the freedom walk website - a fact worth mention, because the relevance of the context of information technology to most places on the freedom walk route, is highly debatable.
Except in Anchaam Peedika. The local tea shack seems to be the intellectual hub of this area. Curious bystanders join the road warriors for a cup of tea and some fiesty debate. Ideas are thrown back and forth, and the message that the walk is carrying is put to the test in the form of a reporter from the local TV station, who asks for a brief statement about the freedom walk. This examination seems to have done some good to the troupe, who debate amongst themselves about a useful summary to encapsulate the ideas behind the freedom walk.
Nishant is a persuasive host - persuasive enough, that the route is firmly directed to end the day at his home. This affront on the freedom of the trek is however turning out to be an incredible blessing. Fantastic hospitality, great food, and the feeling of home. It remains to be seen whether the consensus about starting the trek early in the day will happen tomorrow.......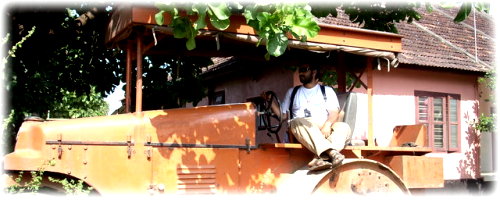 Click here to view the photo gallery
Places passed through:
- Pazhayangadi (Start)
- Cherukunnu Thara
- Kovuppuram
- Mottaamal
- Mottaamal vellitthodu
- Paaliyathu valappu
- Anchaam peedika
- Keecheri
- Velapuram/pappinissheri
- Valapattanam
- Azhikkodu (Halt)