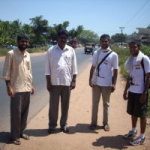 We left the PWD Guest House at around 8:45AM. We had break fast at Vasantha Bhavan near Taluk Office Kanhangad. The food was pretty good. There we tried a local food - Aval + Curry - which was pretty good. The menu looked damn cheap and we took a photo as evidence.
On our way to the next town we came across Hosdurg Fort which was built during Tippu Sultan's reign in the area. We also saw this Hindu shrine built near the fort. From the fort we took a village road that criss crossed between a few paddy fields and reached back the main road.
After this we came across the office of a local news paper where we gave the resident reporter a brief outline about the campaign and our objectives. From there we covered Kovilpalli, Aingoth, and reached Padannakadu.
On our way we saw this Ayurveda hospital where we went in to get some 'Murivenna', a traditional remedy for ailing muscles and joints. The doctor enquired about our campaign and in the end gave us the medicine for free :-). Just after this we ran out of fresh water and went to a house on the roadside. The friendly family gave us rice-water, enough to drink and to refill our bottles. All is not lost in our society. People still do care about others and are willing to offer help in ways they can. We just have to give them the right opportunity where they can contribute.
Only when you walk along our roads do we realize the need for planting trees near roads. There was literally no shade along the main road untill Padannakkadu where there were a chain of Banyan trees near the main road. We took some good photos near these trees. Some of these were so big that they had prop roots on both sides of the road. The day was scorching hot and we ran out of the ricewater and plain water by noon and we were all drenched in sweat. We took shelter near a church and the friendly pastor refilled our bottles with boiled water.
At Padanakkadu we first visited the Nehru Arts and Science college where we went in and met the principal who gladly offered us a chance to meet the NSS group who were supposed to meet at around 1:30PM. We could not meet the complete group but we met with the leadership of the group and conveyed our message there.
We had lunch at a hotel straight outside the Agricultural University Campus, which is really next door to the Nehru College. After lunch we went in and met the Dean who arranged a meeting with the staff and students who were present in the department. Around 10 people came for the discussion where Anoop presented the vision behind the Freedom Walk and offered Free Software as a viable solution for the technical needs and offered help from the Free Software community inexploring possible technical opportunities. The dean was impressed with the concept and he requested for workshops on Free Software and possibly on Free Software GIS software also.
From there we walked via Pallikkara, Karyankod, Kovval and reached Cheruvathur around 7:30 PM. Along the way we were stopped several times by people who enquired about what we were doing and why in the world we were walking such a long distance. At Cheruvathur we met Salman and Rafi who were very enthusiastic about Free Software. We had dinner at Cheruvathur and walked to Suraj's ancestral home near cheruvathur where we were staying for the day.
During late evening phone calls to arrange for tomorrows plans we got in touch with another Free Software enthusiast from Kasargod - Abijith - who it seems is in touch with around 20 hardware service engineers in Kanhangad who are interested in slowly moving towards Free Software. After today's meetings and calls we are getting a feeling that we have attained critical mass in Kasargod to start a Free Software Users Group.