Sabu and Prinson excelled themselves this morning. They made us bed-coffee! This hospitality was nearly embarassing, and impressive. After a great breakfast, we were on our way, with Prinson in tow, towards Vytilla. The National News Channel, Doordarshan was to be interviewing us at Vytilla junction - a real privilege! We spent a good half hour shooting on the street and giving interviews. What was impressive was that the entire job was done by a single hand - the DD person for Ernakulam.
We were next on our way to Toc H school, a well known and respected school in the city, where we were joined by Binny, Sreenath and Aswin - all from the FSUG kochi. Two events, one with the school Nature Club, and the other with a smaller audience of senior students were done. The school principal and Management were really hospitable and showed us around the impressive campus. Soon it was noon.
After lunch we moved on to the Vocational Higher secondary school, Irimpanam, where a shocker of a surprise was waiting for us. This venerable institution is located a little after Thripunithra on the Moovatupuzha route. The entire school had assembled, in anticipation for our arrival! Taken aback by this warm welcome, we took a little time to recover from the shock and then the next one came. We were welcomed to the campus with flower garlands. We planned a quick formal address in the style of a school assembly - the only way to handle a school assembly at noon! Feeling pity for the little ones lined up in neat rows in the school courtyard at a little past 3pm, we didn't prolong our address and the assembly was soon dismissed. While chatting with the staff, we learnt of their website: http://vhssirimpanam.org/ . This is certainly no mean feat, and we were truly impressed by the enthusiasm of the staff here.
Anoop and Sooraj stopped by at the Akshaya center at Thiruvankulam where they met Sugunan Sir nd who was running the center. He treated them to tea and snacks and refilled our water bottle with fresh warm water. He also expressed his interest in promoting Free Software but let us know of the practical issues in doing that when trainees preferred proprietary software training because of market demands.
Soon, we were on our way towards Kolencheri, with no definite place of stay arranged. Although we toyed with the idea of deploying camp in some sort of sheltered public spot, we managed to stumble across the KSEB office at "Puthencruz" - the name in itself a cute translation of its malayalam version. When we explained our predicament to the sub-engineer here, he was very co-operative, and Mr. Biju (the sys-admin for the Kochi Division for KSEB) again managed to connect us properly with the local authority at this AEs office, and we took abode here once again.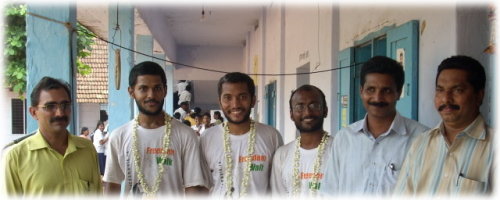 Freedom Walk Day 28 Photo Gallery
People who walked:
- The Freedomwalk Trio
- Prinson
- Binny
- Sreenath
- Aswin
Places passed by:
- Vytilla
- Irumpanam
- Thiruvankulam
- Puthencruz