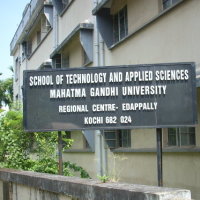 Today we woke up to a delightful breakfast prepared by Cherry's uncle. Despite our vigorous assertions that we would have breakfast on the way to the day's program, he had got up before we were up and prepared a simple breakfast - this despite his disability! We enjoyed this delicious hospitality, and were soon on our way for the day's program.
The first event was at Rajagiri College of Arts and sciences. This lovely campus, with an impressive environment of discipline and pedantic quiet was intruded upon by a boisterous crowd of freedom lovers namely:
Prinson (SPACE)
Sameer (FSUG - Kochi)
Sreenadh (FSUG - Kochi)
Shibin (FSUG - Kochi)
Binny (FSUG - Kochi)
Sanjay (FSUG - Kochi)
IB Manoj (FSUG - Kochi)
Ajith (FSUG - Kochi)
Vipin (Fireflies)
Joyce (Fireflies)
Aswin (OSSICS)
Arun (OSSICS)
- as well as the Freedom walk trio. The audience was mainly a group of students from the Library Sciences and Masters in Social Work programs. We were assisted by Mr. Pappu P.S and Libin P. Kurien, both students' representatives of the college - in collaboration with the college authorities. The session was interactive, and the mixed vocational interests of the crowd were a boon to the wider agenda of the freedom walk, namely 'Freedom in Society', 'Freedom from Environmental Issues', and 'Freedom in Software'.
We moved on to the School of Technology and Applied Sciences (STAS) at Edappally where, again, we addressed a group of students. This group was from a more focussed professional stream and therefore the stress was more on Free Software, and professional interests, as well as some technical questions about its relevance to them and user issues. Within the constraints of time, we did our best to sort these out.
Next we stopped by "Open Software Solutions Industrial Co-operative Society", which is probably the only Open Source co-operative in Kerala. We had the opportunity to address this very interesting institution, and share our experiences as peers.
Later, we trooped out in a procession, and walked into the campus of the "National University of Advanced Legal Studies", Cochin. The students here were in the middle of exams, and we were able to have an informal chat with the faculty.
From here, we quickly moved on to the Khadi Board - another unscheduled visit. Luckily, we were able to meet with a few of the staff here and find a point of contact. We met a Mr. Jacob Nedumpasseril, who runs an interesting restaurant, "Aruvi Kuruvi" - an establishment which only serves fresh food prepared under naturopathic principles. We were able to enjoy his hospitality, with delicious "ila ada" and other tea time delicacies.
The group were now in procession mode, wielding Placards and battling rush hour pedestrian and vehicular traffic, and moved towards the Marine drive, where dusk was fast approaching. This harbour-front promenade has the potential to be an amazing hangout - if it is cleaned up and touched up a bit, and if the foul stench wafting in from the harbour is taken care of. We hope we managed to attract the attention of city folk determined to catch some open space and "fresh" air - certainly a mean feat, given the competition from the lovely view out to the harbour, the elegant wooden seats, piping music drifting in from craftily camouflaged speakers and eager hawkers displaying gaudy trinkets. The campaign soon ran out of steam and veered off back onto the crazy streets and inevitably wandered into "Jay's Internet Club" run by the gaunt, yet energetic Jay Jacob. This venerable institution off Broadway, with its leather clad couches, well worn furniture and ageing computer hardware has the ambience of a hackers' paradise - ideal settings for what is the venue of the beginnings of the FOSS users' groups of Cochin.
Princon's home turned out to be the stayover for the day - well worth the walk to Vytilla - he and his brother Sabu had prepared a feast!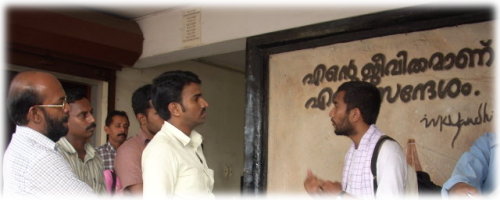 Freedom Walk Day 27 Photo Gallery
People who walked:
The freedom walk trio, and the above list of people.
Places passed through:
Kalamassery, Eranakulam city, Vytilla.
Distance travelled: 14km