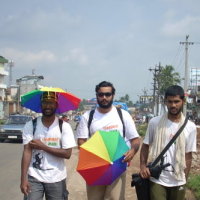 Today we woke up to bed coffee and a great breakfast, thanks to Anoop's folks. We also befriended their lovely pet poodle. Thus rejuvenated, we headed off at a brisk pace towards Angamali. Having walked a fair bit in the sun, we paired off into two groups, with Prasad and Sooraj leading, and Anoop and Cherry trailing. A novel sight was that of a rather sizeable statue of the laughing Buddha. The facility had a sign that read "feng shui practise", and also had a Garden and some sort of fish tank collection.
When the groups joined together finally, there was some bad news. Prasad had been complaining of stomach ache, and it seems that this had been lingering on for the last four days. Despite the medication that he'd been prescribed by Dr. P.S. Zachariah (Anoop's uncle, and our host), it seemed to be persisting, and we came to the sad, but firm decision that he should seek explicit medical advice. Presently, we had a reluctant Prasad on a bus to Thiruvanthapuram, and the group of walkers now shrank to three.
The trio was soon on their feet, and the noon ritual of asking for "kanji vellam" (rice soup) began. We were interested to see the reaction to strangers in different parts of Kerala. We were really impressed by the hospitality shown, as we were not only offered a drink at the home we stopped at, but also given a filled bottle to carry with us.
Later in the day, we also met Anoop's friends who stopped by to chat, on their journey to Chennai. They encouraged us, and one of them took an impromptu "interview" on his digital camera, possibly destined to be viewed on the internet.
Soon we reached Angamali. We were surprised by the warm welcome from the local community, who were not just restricted to free software users, but members of the local Sastra Sahitya Parishad and Akshaya Centres. These included Mr. N. P. Johnson - convener of the "Plachimada Samara Samithi", Mr. E. T. Rajan - Jilla Joint secretary of the Sasthra Sahitya Parishad, Mr. A. P. Gopalan Nair ( fondly called "APG" by locals ) - Akshaya Eranakulam Jilla Coordinator, Renjith, Navnith, Mukesh, Mejo and Unni from "IT Public", and finally the grand "Peter chettan" who asked us tough questions about our agenda, free software, and the intentions of all participants. This was a great review of our thought processes, and helped a lot to refine our ideas in the process. A grand reception! Many Thanks for lunch too!
Finally, we left for Kalamassery, near Eranakulam, deciding to take on a few extra kilometers in the interest of starting early on a busy day that would be tomorrow. Towards evening, we had two of Cherry's friends show up, with one of them, Shaji Yusuf, choosing to walk with us a part of the way.
Soon we were at Cherry's uncle, Mr. George Koshy's place, having covered a record 37km, and we quickly settled down. Here, we heard the sad story of how on the night of January 21st, 2008 at 11:00pm, he had met with a nearly fatal car accident, and how it had disabled him - but we also heard of the inspiring part of the story about a group of three exemplary young men.
These men, Mr. Prasheed K.S, Mr Arun Kumar, and Mr. Anish Menon were just passing by on errands to do with Mr. Prasheed's wedding betrothal ceremony. Even in the middle of their urgent hurry, they stopped by, and noticed Mr. Koshy and his wife slumped unconscious and soaked in blood but still breathing, within the wreckage of a hatchback car. They dropped everything to get involved - hacking open the nearly destroyed car to pull them out, taking them in the vehicle they had been travelling in, transferring them to an ambulance at their own cost to reach them to emergency care within the "golden hour" - thereby saving both lives. This, despite the dissuasion by local people, who only stood by for nearly half an hour, without helping. These young men disregarded the prevalent culture of "this is not my business, but someone else's", and actively took initiative to "be the change they wish to see in the world"! Kudos to them for their social responsibility! We hope that people like this group of young men would inspire other young folk around them - what a privilege to know about them!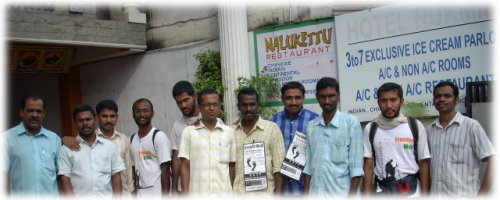 Freedom Walk Day 26 Photo Gallery
Places passed through on the NH-47:
Chalakkudy
Angamali
Kalamassery
People who walked:
IT Public folk - Renjith, Navnith, Mukesh, Mejo and Unni
Cherry G. Mathew
Anoop John
Sooraj K.
Prasad S R ( Forenoon )
Distance travelled: 39km