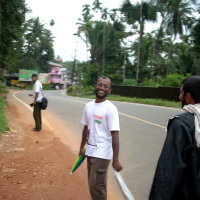 The stay at Puthupaddy was quite comfortable. Mr. Yunais has done a great job of handling stay for the walkers in Kozhikode. A good thing about staying in a functioning office is that we get kicked out before the start of the day. We set off for Thamarassery at a lazy pace. The distance to Thamarassery is very small, and the program was arranged to begin at 3.30pm.The idea was to start out in a procession towards "Vyapari Bhavan", where a meeting was organised by the Rotary club. Rain, however, spoiled the plans that Mr. Mohammad Niyas, of the Rotary club had made for us. Mr Niyas had even printed out a banner to hold ahead of the procession. So we headed off to the city centre in rain coats, and found the "Vyapari Bhavan".
The meeting went very well, although slightly more formal than Mananthavady. A lot of people had genuine doubts about free software, especially licensing issues, and also practical issues like viruses.
We set off for Chathamangalam, where the NIT campus is located. Stay had been arranged for by Kishore, a student in Electronics engineering there. He spoke with a Mr. Dileep, a member of the faculty at NIT. We were recieved at the campus by both, who knew Jamshid by way of being an alumnus of NIT. We went straight to the canteen, and legend has it, that the NIT canteen ran out of supplies for the first time! The PG quarters were comfortable, and we were exhausted, because the trek upto NIT was really hard. We passed through inroads in the country, and because of the time of day, locals were suspicious of our motives, but when we told them about our mission, suspicion turned to helpful directions to the campus.
We went to bed exhausted, hoping for a good meeting with NIT students that Jamshed had organised.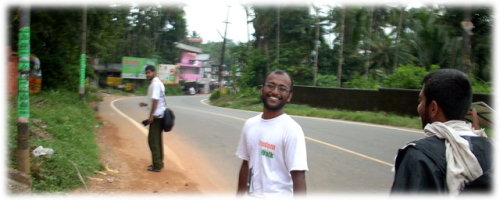 Freedom Walk Day 14 Photo Gallery
Walkers:
Anoop John
Prasad S R
Cherry G. Mathew
Sooraj S
Jason Nedumpala ( part of the way and stay overnight)